Community Health Assist Scheme (CHAS)
The Community Health Assist Scheme (CHAS) was set up in 2000 by the Ministry of Health (MOH) to provide subsidies for medical and dental care. The scheme enabled all Singapore Citizens, including Pioneer Generation (PG) and Merdeka Generation (MG) cardholders, to receive such benefits from participating General Practitioners (GPs) and dental clinics.
We remain committed to providing accessible, affordable, and quality medical services to all our patients. Enjoy CHAS, Merdeka, Pioneer Generation subsidies at Healthway Medical CHAS GP clinics.
Singapore citizens can receive subsidies at Healthway Medical CHAS GP Clinics


Community Health Assist Scheme (CHAS)

Subsidies for health screenings under Screen for Life (SFL)
Healthway Medical CHAS GP clinics are participating providers in the Screen for Life (SFL) programme by the Health Promotion Board Singapore. The purpose of this programme is to encourage Singaporeans to go for regular health screenings. Under this programme, eligible Singaporeans can go for subsidised health screenings at Healthway Medical CHAS GP clinics.
Call your nearest Healthway Medical GP clinic to learn more and find out which health screening tests are suitable for you. 
FREQUENTLY ASKED QUESTIONS
What are the CHAS Subsidies Available?
The colour of the CHAS card indicates the subsidy tier that cardholders are entitled to. Blue, orange and green cards represent different levels of subsidies for elderly people. The table below is a comprehensive guide that shows the range of subsidies available.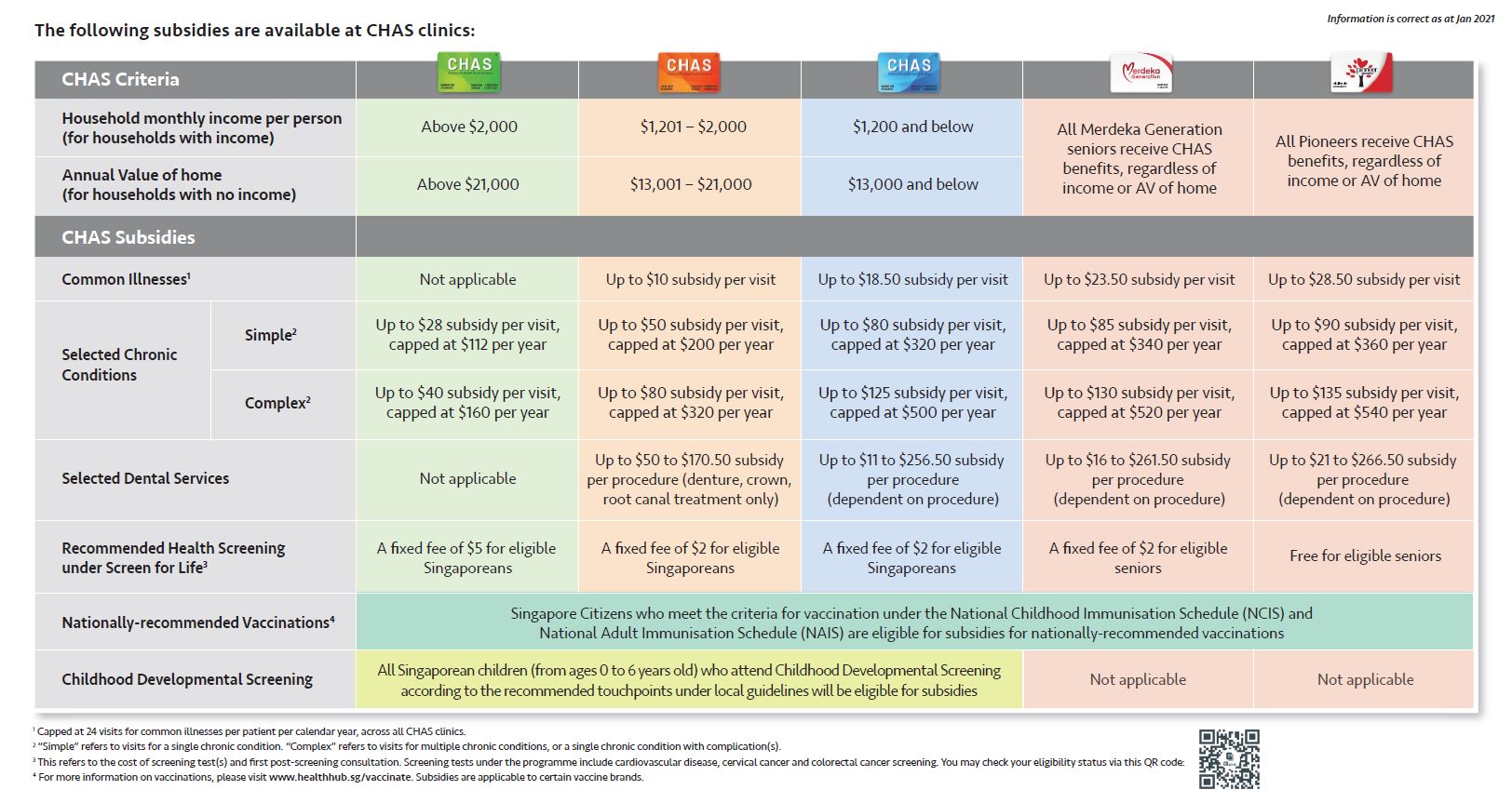 Am I Eligible for CHAS Scheme?
The CHAS scheme is a government initiative that was launched to help lower-income Singaporeans and seniors pay for their medical bills.
All Singapore citizens are eligible to apply for this card, but applicants will have to meet certain criteria. 
In order to qualify for the CHAS scheme, Singaporeans must be assessed according to their household monthly income per person or the Annual Value (AV) of one's home, as shown in the table above. 
What are the Types of Medical Services Covered Under CHAS at Healthway Medical CHAS GP Clinics?
CHAS subsidies can be used to alleviate the medical costs of common illnesses, selected chronic conditions, as well as selected dental services. 
Common illnesses are acute conditions that can be cured with medication and rest. They include short-term or minor health problems that do not require long-term care. On the other hand, chronic diseases are progressive conditions that require long-term treatment and medication. 
All Healthway Dental clinics are participating CHAS dental clinics. Learn more about CHAS dental subsidies here.
Where are the Locations of Healthway Medical CHAS GP Clinics?
Can I Use MediSave to Help Pay for My Medical Bill After Deducting the CHAS Subsidies?
MediSave can be used to co-pay the remaining bill after deducting CHAS subsidies. 
After deducting CHAS subsidies, you will need to co-pay 15% of the remaining medical fees in cash, while the rest of the payment can be claimed from MediSave.
Patients can use their own or their immediate family members' MediSave accounts, up to the withdrawal limit of $500 per account per year for outpatient treatment of chronic conditions.
Designed to give patients utmost care and convenience, MediSave covers outpatient care at Healthway Medical clinics under the following schemes:
1) MediSave500 or MediSave700
From 1 Jan 2021, patients with complex chronic conditions will be able to use up to $700 per patient annually, while other patients will be able to use up to $500 per patient annually for selected outpatient treatments under Chronic Disease Management Programme (CDMP), recommended vaccinations under the National Adult Immunisation Schedule (NAIS), National Childhood Immunisation Schedule (NCIS), mammogram screenings for women aged 50 and above and approved neonatal screening tests.
2) Flexi-MediSave
Patients aged 60 and above can further reduce their out-of-pocket costs for outpatient medical care through Flexi-Medisave. Each patient will be able to use up to $300 of Medisave a year for outpatient treatment at all Healthway Medical GP clinics, all of which are CHAS-accredited.
Outpatient medical treatment payments can be withdrawn from your own or your spouse's MediSave account, capped at $300 a year for each patient. In order to tap on your spouse's MediSave Account, both your spouse and yourself have to be 60 years old and above.
Flexi-MediSave can be used in conjunction with other outpatient MediSave limits, such as the MediSave500/700 limit.
All Healthway Medical GP clinics are Medisave-accredited.