Scientists have called the COVID-19 pandemic the worst global public health crisis since the Spanish flu in the early 1900s. Among the reasons why COVID-19 took the world by storm was that our healthcare infrastructures were simply insufficiently prepared for a virus that could spread so quickly and dangerously.
In addition, scientists knew very little about COVID-19 when it first began to circulate around the globe and cause a staggering number of deaths. We may now have a better grasp on how it affects the lungs, but we still do not have enough data on the long-term impact of COVID-19 on other organs in the body, such as the heart.
However, more than two years since the COVID-19 pandemic started, researchers have begun to publish studies on their findings regarding COVID-19 and the heart. We will explore some of their reports in this article.
What Is the Relationship Between COVID-19 and Heart Disease?
Studies demonstrate that a proportion of patients with COVID-19 were also diagnosed with acute heart injuries. These may include blood clots, arrhythmias, heart attacks, inflammation, and heart failure.
In addition, research has shown that individuals with existing heart disease have a higher risk of experiencing more severe symptoms upon contracting COVID-19. Studies have also shown that a significant number of patients hospitalized with COVID-19 had pre-existing heart problems.
How does COVID-19 cause or worsen heart disease? Well, it is important to recognise that COVID-19 can cause disturbances to your immune system. The imbalances that occur in your immune system can predispose your body to experiencing heart damage.
Post-acute Sequelae of SARS-CoV-2 Infection (PASC) or Long COVID includes a wide range of new, returning or ongoing health problems that last for weeks or months after infection.
Long COVID can affect anyone who has had a COVID-19 infection in the past, regardless of how mild the symptoms were at the time.
In the infographic below, long COVID is associated with a whole host of symptoms affecting different organ systems. Up to 3 out of 10 adults have reported symptoms suggestive of Long COVID.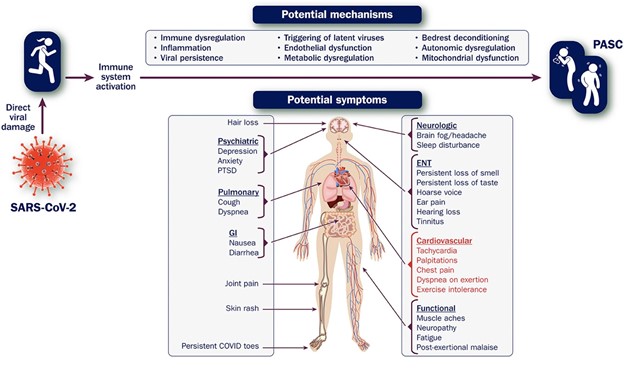 Because the data on long COVID is scarce, it is too early to say if COVID-19 can cause long-term heart disease. However, there is evidence that suggests that people who were once hospitalized with COVID-19 have a higher risk of developing long-term heart complications.. If you were once diagnosed with COVID-19 and develop symptoms such as chest pain, breathlessness, palpitations, and exercise intolerance that remain or develop long after COVID-19 infection, it is best to speak to a qualified cardiologist about your concerns.
This is because your symptoms may be caused by pre-existing or new cardiac disease that may or may not be related to COVID-19. Investigations such as blood tests, electrocardiogram, and advanced heart imaging studies will provide a broader picture of your heart problem and it's appropriate management.
Remember — there is still much that we do not know about the effects of long COVID. However, the good news is that your symptoms can still be treated so that you can be as healthy and disease-free as possible.
References
Tajbakhsh A, Gheibi Hayat SM, Taghizadeh H, et al. COVID-19 and cardiac injury: clinical manifestations, biomarkers, mechanisms, diagnosis, treatment, and follow up. Expert Rev Anti Infect Ther. 2021;19(3):345-357. doi:10.1080/14787210.2020.1822737
Writing Committee, Gluckman TJ, Bhave NM, et al. 2022 ACC Expert Consensus Decision Pathway on Cardiovascular Sequelae of COVID-19 in Adults: Myocarditis and Other Myocardial Involvement, Post-Acute Sequelae of SARS-CoV-2 Infection, and Return to Play: A Report of the American College of Cardiology Solution Set Oversight Committee. J Am Coll Cardiol. 2022;79(17):1717-1756. doi:10.1016/j.jacc.2022.02.003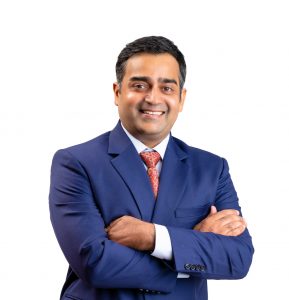 Dr Saurabh Rastogi
Senior Consultant Interventional Cardiologist
Nobel Heart Centre (Gleneagles)
Our Specialist
Dr. Saurabh Rastogi is a Senior Consultant Interventional Cardiologist at Nobel Heart Centre with over 15 years of experience in the US and Singapore.
In his prior practice with Ng Teng Fong General Hospital, Dr Rastogi was the Director for the Cardiac Catheterization laboratory and Associate Program Director for Cardiology Senior Residency Program. Dr Rastogi has special interest in Complex Coronary Interventions Advanced Heart Failure management, Echocardiography and Nuclear Cardiology.